Holy hell, has it really been ten months since I've posted on this site? I gotta start remembering this thing exists.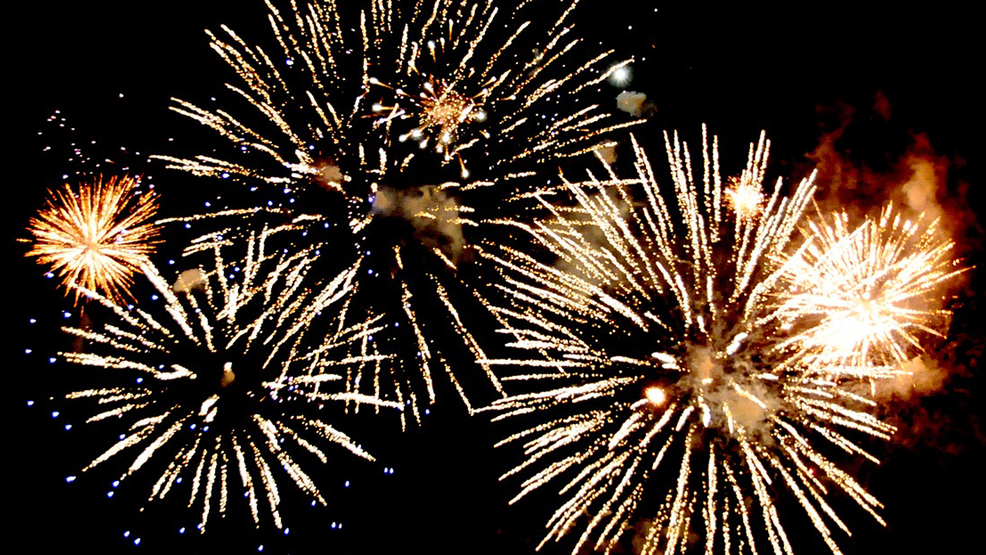 Well it has finally come and gone... 2018 has been the longest decade in my life, and I think I can say the same for many of you out there.
Looking Back
There have been a few people posting about what their highlights for the past year were. Well, here are mine:
Published Festival of Magic on the DM's Guild, which - in comparison to everything I've published - is one of my personal favorites.
Funded the Kickstarter for the 5th Edition conversion of A Night in Seyvoth Manor, and delivered the product before Halloween. It has since become my one and only "Copper seller" on DriveThruRPG.
Had my craptastic Bahamut, The Platinum Dragon - which is literally nothing but a stat block, a shoddy one at that, and contains no lore or art - become a "Copper seller" on the DM's Guild. I mention this only because, so far, it is the only Copper product I've done on my own in the DMG.
Collaborated on Storm King's Barrows: Tombs and Crypts of the North, which has since become a "Silver seller" on the DM's Guild. Not my best work, but arguably my most revenue-producing thing all year.
Released The Absent-Minded Alchemist, which was a bit of a "meh" product to start but was easy to convert from 4E.
Funded another Kickstarter for my social adventure Uninvited Guests, which has since been renamed to Party Crashers. This Kickstarter was a "proof of concept" - to see if I can do quick and dirty one-offs with a low funding goal - and it worked, so expect me to do more of this in the coming year.
Launched a Patreon! And the TWO backers I have so far are getting lonely, so...
That's pretty much it. It's not a lot... At a personal level, 2018 has been somewhat difficult in terms of my home life and my financial situation, and those situations are, by nature, not conducive to creativity, so I've been in a bit of a rut. But, all in all, it went better than 2017 in some regards, so there's that.
Looking Forward
So what does 2019 have in store? Honestly, I don't know yet... But here are some goals.
Finish Uninvited Guests Party Crashers in the near future.
Do several more Kickstarters like
Uninvited Guests Party Crashers over the course of the year.
See what the hell I'm finally going to do with the complete The Coming Dark campaign as well as Atomic Age. There's a lot to be done on those, and I question whether the effort is worth it right now.
Cater to my Patreon backers more, in that I'll be creating more "behind the scenes" posts and videos (maybe). In the meantime, hope to get more than... well... two... Patreon backers.
Hopefully set up a regular game with... somebody...
Maybe go to GenCon. I don't know yet... I need to see if the expense really is worth it.
Sort out my personal and financial situations so that I can do this kind of stuff more readily and with less guilt.
If you're reading this, you're one of the reasons I press on. Thank you for your support, and I hope to show you a lot more cool things in 2019.
Ever forward.
Gosh, it's been a while... To say my life has been hectic, or difficult, is somewhat of an understatement. So much so that I have had to effectively cancel my trip to GenCon this year because I see no way whatsoever that it can be logistically or financially possible. So, to those of you that are going, I will have no choice but to experience it vicariously through you.
Meanwhile, my little pet project - the Atomic Age RPG - has been languishing in something I can only describe as "development hell". Or maybe "launch a Kickstarter hell", if such a thing exists.
Here are my concerns with the project:
1) I have no art
Right now, at this very moment, I can probably launch a Kickstarter, distribute or sell the product... but I can't bring myself to do that. You see, right now at it stands it's nothing more than a text dump, an almost identical copy of the Archmage Engine SRD with some words and numbers changed. That does not make for a successful RPG by any means, and I feel that if I were to do that the product wouldn't last a day before disappearing into obscurity.
If I'm going to do this I'm going to do this right, which means that I need some sort of art. And there are many levels that need to be covered by art...
I don't even have a LOGO yet
The Kickstarter listing alone needs some sort of art
The core book needs art. A LOT of art, quite frankly
Everything else (stretch goals, backer rewards, etc...) needs art
Now I know a handful of artists I want to approach with this project, and I have even had business-like discussions with them, but with all of them there is a cost to get this off the ground. Maybe some will do it free, I don't know... I didn't ask and I don't want to ask. Like I said, I want to do this right: I do not want contributions or charity. I'm going to treat this like a business, which means I will pay my artists what the market bears.
That being said, although the cost of prettying up the core book and supplementals will be covered by the Kickstarter itself, the logo and Kickstart art will not and has to be paid first. The financial turmoils I've already mentioned make that rather difficult to do, and I can't bring myself to take the next steps without knowing - without a doubt - that I can afford my artists.
2) It hasn't been officially announced
I've mentioned the project in passing, and have even posted images of some of the content I've been working on, but it hasn't really been officially announced. There's a website, and a Facebook page, and a Twitter account... but few people know about it.
Why not? I don't have a logo, and for personal pride reasons I feel I can't start officially directing people to the social media venues without having a product identity.
So, until I can do that, they stay clouded in obscurity and amidst the whispers of a select few.
3) It hasn't been playtested
Because it hasn't been launched, few people know about it. Even fewer have actually seen it. Actually, I can only think of two people that have, and even those two have probably only glanced over it, figuring I wasn't quite serious about this whole thing because I haven't done everything I mention above.
For that reason, I have no idea if what I'm doing is "right" or "broken". I don't know if I properly grasp the concepts and game style people expect or look forward to, or if I've created any single element that needs radical changing before it gets abused all to hell.
Granted, the playtesting could theoretically happen during or after the Kickstarter, but as a long time game designer it's a serious concern for me. I've had issues before with games that weren't properly tested... Sure, this isn't a video game, but I feel it needs an equal level of analysis and testing before getting anywhere near production.
4) It hasn't been edited
I'll be honest: I'm a lousy writer. And if you're a writer reading this, I bet you can admit (to yourself, at least) that in the early stages of your writing career you were a lousy writer too. Heck, there are probably several dozen grammatical errors and misspellings in this post alone (yes, I know they're there... No, don't point them out).
If I want to do this right, the game has to be the best that it can be, and for that an editor is absolutely necessary. Yes, I know that the editor can do his job pretty much at any time before the product reaches the final stages, but that would mean that the early "alpha" or playtest releases might end up looking like they were written by a child who can't speak English. Once again, personal pride steps in... You can be the creator of the best RPG the world has ever seen, but if you give it to the world using text that looks like it was written by a monkey with a typewriter it doesn't matter how good the game is.
5) It's not done
In the video game industry, there was a time when if you asked pretty much any video game developer when they were going to release their product they would answer without hesitation "when it's done" (I guess we can thank 3D Realms for that one). But the thing is, if it were entirely up to me and my creative flow, what exactly defines "done"? Honestly, I could keep writing content until the core manual is 3,000 pages. Who decides "OK, you can stop now and publish this"?
Furthermore, as many authors will probably attest to, it's hard to be satisfied with what you've written. When you think you're done, you look at it and think "you know, I didn't like [X]... let me fix that"... And six months and 400 pages of rewrites later you keep thinking the same thing. It's very hard for a writer to stop themselves because, in their eyes, it's never done... it's never perfect... and there's always room to do something better.
Let's look at the classic example of someone taking forever to write something: George R. R. Martin. Do you honestly think he sits down and starts writing page one, then as soon as he writes the last word of page 1,200 sends it off to the publisher and never thinks about it again? Heck no. Let's be realistic here, there probably is at least one version of The Winds of Winter that is already written cover to cover... He's knows it's terrible,  he's probably been writing and rewriting and rewording and fixing it for the last four years, and will probably keep doing that for another four years because that's the way he works. If he had someone that made him publish the books when they were ready, we'd have fifteen books in the series by now. They may not be as awesome as the five books we've seen (they'd probably suck, to be honest), but they'd be out there.
So unless you're George R. R. Freakin' Martin, eventually you have to put your foot down and say "OK, I might have spent five years rewriting this thing eighteen times, and I know it's probably the worst thing I've ever written, but I can't keep doing this until the end of time", send it to your publisher and hope that you're the only one that thinks it sucks.
I know a lot of things in my product are deficient, or "broken", or nothing more than a "// TODO" tag. It's personal pride again, preventing me from having anyone besides myself see how bad or lacking this product is. Every day I write something, even if it's a sentence or a paragraph or changing monster #135's Mental Defense stat... But I know that at some point I'm going to have to force myself to stop and let other people look at this mess.
Anyway, besides the personal issues I will not elaborate on here, I have a lot of things to do and a lot of battles with my own pride to overcome. This product will get done, sooner than later, and I just have to get my crap together to do it.
Until the Kickstarter launches, "ever forward..."
In case you aren't aware, my pet project - the post-apocalyptic treatment of 13th Age's Archmage Engine SRD - has a name now: Atomic Age. We have a website and a Twitter account, but I'm not exactly advertising yet because I don't have appropriate branding for it. I want a logo and a few creative assets before I head unto the breach that is social media.
In the meantime, development continues... Most recently on the catalog of monsters that will be included with the core book. Initially I had created the "straight", not off-the-wall monsters that could be present in a semi-realistic post-apocalyptic world - robots, soldiers, wasteland marauders, etc. - but now it's time to do the weird ones that make a post-apocalyptic game entertaining and offbeat.
While I was converting Lepus Maximus to Atomic Age, someone mentioned Monty Python and the Holy Grail. And with that the thought process was unavoidable.
Since it's actually compatible with 13th Age, here you have my latest creation: The Vorpal Rabbit. Hope you enjoy!
---
Rabbit, Vorpal
Normal 3rd level Wrecker Beast [RABBIT]
Initiative +7
AC 20
PD 15
MD 11
HP 44
Huge, sharp teeth +8 vs. AC - 8 damage, and the rabbit pops free from the target
Charge: The attack instead deals 12 damage on a hit if the rabbit moves first before attacking an enemy it was not engaged with at the start of its turn.
Natural 17+: 6 ongoing damage (hard save ends, 16+)
Quick footed: The rabbit gains a +5 bonus to disengage checks.
Leap about: As a move action and with a successful disengage check (if applicable), the rabbit can hop to any nearby space it can see.
Fear: While engaged with this creature, enemies that have 15 hp or fewer are dazed (–4 attack) and do not add the escalation die to their attacks.
Nastier Specials
Critical threat: When the rabbit makes a charging attack, it scores a critical hit on a 17+.
Vicious streak: When the rabbit scores a critical hit, it can move to engage another nearby target and makes a charging bite attack against it as a free action.